How to dress for a beach wedding
Selected a Gold Coast Wedding Reception Venue? Saying your "I do's" on the beach?
Just recently we listed some hot tips when planning a beach wedding. We wanted to take a further look into how to dress because, let's face it; a ball gown belongs in a ballroom!
Think twice about a big dress. You may be able to get down the aisle in a full dress and long train but walking on the beach and taking photos won't be easy. If a big dress is a must, make sure your train can easily be hooked onto your gown.
Think light. A light weight fabric like chiffon won't pick up any debris from the beach. Our recommendations of beach appropriate fabrics include charmeuse, tulle and taffeta.
Nix the veil. When marrying outside, think twice about your veil length. A long veil you'll be able to at least hold in place should it be windy, however a short veil will be harder for you or your bridesmaids to control.
Hair. If it's a windy day at your Gold Coast Wedding Reception Venue, it will be a nightmare for you and the photographer. Have the option to pin some of your hair back if you opted for a down style. If it's a rainy day and your hair gets frizzy, bring along your favourite hair styling tool and some frizz relief hair products to do a touch up during the day/night.
Ditch the heels. A wedge heel are great in general. Not only will they make walking on the sand easier you'll be able to COMFORTABLY dance the night away! This is our number one advice to Brides! You could also consider sandals, or why not go barefoot? Find a pair of dazzling 'foot jewelry' and you'll look both dressy and casual. You can save your high heels for the reception. Don't forget to have your dress hemmed without heels. Check out forever soles for more inspo.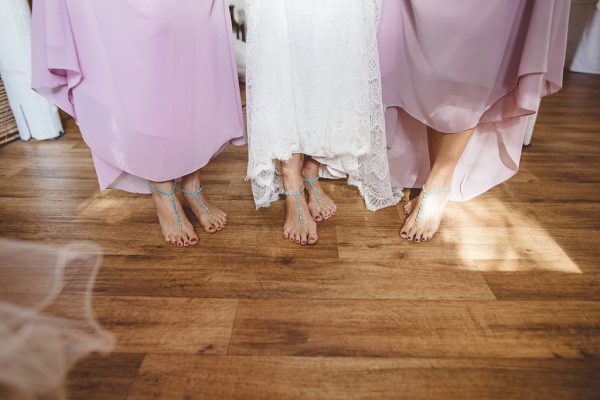 Let your guys go informal. If you're opting for lightweight fabrics for a summer wedding then the guys should be able to do that too. Forget the black woolen tuxes and let them wear light-coloured linen suits or even just a button up shirt for those very humid days!
Contact us for more information about how we can help plan your Big Day
Happy Planning!