Wedding Photo Tips

Source: Jashan Photography – An Island Hideaway Gold Coast Wedding Reception Venue
With platforms such as Pinterest and Instagram, sometimes you can get carried away and fall prey to trends that will not be popular next year, let alone ten or twenty years from now. That's exactly why it's essential to follow your own taste and style, whether when picking a wedding dress, makeup, hairstyle, wedding décor as well as wedding photos. The goal is to look for timeless elegance in all of the aspects of your wedding, so when you look at those photos years from now your heart will be filled with joy and nostalgia rather than the 'what was I thinking' thoughts. When it comes to wedding photography, forget about novelties, or embrace some and make them your own – find that perfect balance between trends you like and tradition. The crucial thing here is to communicate your vision and your wishes to your wedding photographer clearly, so you end up with an album full of mementos that will stand the test of time and you'll be proud to look at even when you're an old couple.
Don't shy away from the word 'classic'
Many young brides tend to stray away from tradition and shiver when they hear the word classic. However, there is absolutely nothing wrong with keeping tradition alive. It keeps you connected to your heritage and classic always trumps trendy. For trendy poses you can always use modern wedding cars and make excellent "just married" photos, but keep it clean and simple. Things like you getting ready, you with your beloved family, moments of genuine and un-staged affection between you and your spouse – those are precious moments that should be captured, not fake poses and staged 'perfection'.
Source: Leigh Warner Photography – An Island Hideaway Gold Coast Wedding Reception Venue
Find just the right photographer
Before you commit to a wedding photographer, make sure of three things: check their portfolio to see what type of photography they do. Look for someone who doesn't rely on post-production and excessive retouching to get perfect photos. The second thing to look for is a photographer who will listen and be easy to work with. The third and final thing to look for is someone who pays attention to details. For instance, in Indian wedding photography the focus is always on traditional details – the attire of the bride and groom, the jewelry, the mother of the bride and so on. Look for these qualities when hiring a photographer and you won't go wrong.
Let there be light
In order to ensure every moment is captured impeccably, make sure that the lighting is perfect. That's why daytime weddings are the best, as the natural light is the most flattering, not to mention that the photographer's job is enormously easier when he's working with great light.
Relax and enjoy the moment
Once you've done everything in your power, when the big day comes, just try to relax and enjoy yourself. Don't stress about tiny things, and most importantly don't micromanage your photographer. Keep the focus on your spouse, and make sure you are truly in the moment. Not only will that ensure you have a great time but your wedding photos will be genuine and spontaneous.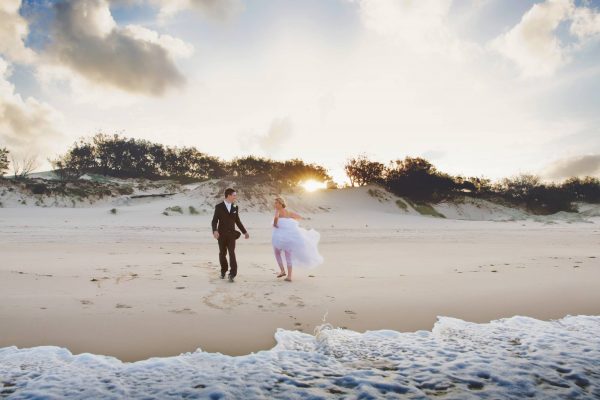 Source: Follett Photography – An Island Hideaway Gold Coast Wedding Reception Venue
Live, laugh, dance, love
Don't be concerned with artificial perfection. Sometimes the best possible photographs are the ones where you're not your most beautiful self, but one that is truly happy, laughing out loud or the ones where you're caught in the middle of an unflattering dance move. Take Jewish weddings for instance. These are some of the most festive weddings there are, and the bride and groom definitely don't have their 'picture perfect' poses during the Hora, but these are everlasting moments they cherish forever.
Georgia Selih is author @highstylife.com. By nature an artist, by profession a journalist. An irreparable print lover who is enjoying this hot digital affair.
An Island Hideaway are fortunate to work with some of the most AMAZING suppliers in the wedding industry. For more information regarding photographers that know our 
Gold Coast Wedding Reception Venue
 well and will suit a variety of budgets, please visit our
preferred suppliers
page.
Happy Planning x